Lamb stuffed with Mushrooms and Foie
Recipes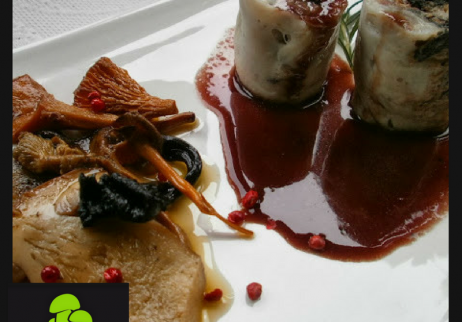 Ingredients
✔️
1'5 kg of lamb's handles
a selection of seasonal mushrooms (boletus, chanterelles, trumpets of death ...)
✔️
3 tablespoons of Modena vinegar
✔️
300 ml of good red wine (Ribera del Duero)
✔️
200 ml by Pedro Ximénez
✔️
Pepper and ground cayenne
✔️
white pepper and pink bean
✔️
a branches and flowers of rosemary
✔️ Extra virgin olive oil
✔️
sal, bay leaves and a little vinegar
Preparation mode
👉
We will start by soaking the hands in cold water for about two hours. Drain and cover again with plenty of water, bring to a boil leaving 5 minutes. We throw away that water that will carry all the impurities, we refill with water and add some bay leaves, a stream of vinegar, grains of pepper and salt. Leave on a moderate heat until they are completely tender and detach from the bone without any problem (from an hour and a half to 2 hours) Once a little warm proceed to the heaviest part, remove all the bones leaving the little hand open and whole.
👉
Clean the mushrooms with warm water and reserve a part of garnish, which we will confit. The part of the filling we will chop and put in a pan with a little oil, sauté with a pinch of salt and pepper. Then add the foie so that it melts with our mushrooms.
👉
Extend film paper and place our hands extended, one after the other (we will do it in two curls) and place the mushrooms with the foie on top. We shape the film with the film knotted at the ends like candy. We reserve in the fridge to take shape. Being so gelatinous and with the mushroom mixture will take shape when cooled.
It is better to do them the day before.
ConfTo confit the mushrooms that we will put garnish, we have to put in a saucepan abundant oil that covers our mushrooms well, we add pink and white peppercorns, a few sprigs of rosemary. We leave at low temperature, which does not boil for about 20 minutes. The oil will be clean and flavored for use in other dishes or for salads.
To prepare the sauce, chop the shallots in thin julienne and put in a pan with a little oil until tender. We add the vinegar, the red wine and the PX. We let it reduce a little. We incorporate a few spoonfuls of the cooking of the hands. When the sauce begins to have consistency we remove and grind. You can go through a colander if we want it finer.
👉
Cuitamos the film and split our curls in portions of about 4 or 5 cm. Put in a baking dish and temper at very low heat (50 or 60 degrees) so that it does not crumble but the gelatin from our hands melts.
C/ El Salvador, 69.
49519 Rabanales - Zamora. España
Tel. +34 980 681 866 -
pedidos@faundez.com / info@faundez.com
Legal - Privacy - Terms - Web map
FAÚNDEZ GOURMET. © ALL RIGHTS RESERVED
Download our App for free


Delete item
Do you want to delete this item?