Red Pine Mushroom Cream with Egg yolk and Cecina
Recipes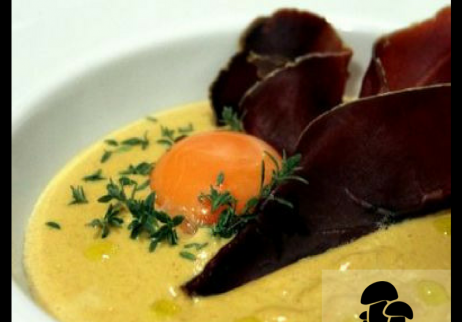 Ingredients
✔️
600 g Red Pine Mushrooms https://www.faundez.com/es/productos/detalles/niscalo-entero-i-ultracongelado/34
✔️
2 leeks only the white part
✔️
300 ml Liquid cream to mount 35% M. G.
✔️
8 cured slices (thin slices)
Preparation mode
👉
Clean and wash the chanterelles, trying not to leave even a grain of sand, because then in the mouth it is very unpleasant.
👉
Cut into pieces, wash again, and drain.
Meanwhile, we poach the sliced ​​leeks in a casserole with three tablespoons of olive oil.
👉
When it is golden, we incorporate the chanterelles. Season, stir and cover the casserole.
👉
Let it cook over medium heat for 10 minutes stirring occasionally.
👉
We add the cream, stir again and let it make another three minutes. We tested the point of salt, rectifying if necessary.
👉
Trituramos with the blender or Thermomix until you get a homogeneous cream without lumps.
👉
Put a saucepan with water and salt to boil while we remove the yolks of the free range eggs, being careful not to break them. We reserve the whites for another recipe (such as this lemon and meringue cake).
👉
Put them in a colander and place in the hot water, not boiling, for a few seconds. We take out
👉
We distribute the cream of hot chanterelles in deep plates, place the egg yolk on top and two slices of jerky on each plate. Season with a few drops of extra virgin olive oil and a few leaves of fresh thyme.
👉
We served and tasted the cream of chanterelles.
C/ El Salvador, 69.
49519 Rabanales - Zamora. España
Tel. +34 980 681 866 -
pedidos@faundez.com / info@faundez.com
Legal - Privacy - Terms - Web map
FAÚNDEZ GOURMET. © ALL RIGHTS RESERVED
Download our App for free


Delete item
Do you want to delete this item?